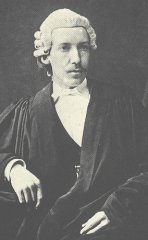 STEVENSON, Robert Louis Balfour (1850-94), Scottish novelist, essayist, and poet, who contributed several classics to the world of children's literature.
Stevenson was born on Nov. 13, 1850, in Edinburgh, the son of an engineer, and studied engineering and then law at the University of Edinburgh. Since childhood, however, Stevenson's natural inclination had been toward literature; eventually he took up letters seriously, soon making his way into the first rank of contemporaneous writers by the excellence of his style.
Continue reading Robert Louis Stevenson Biography.
Robert Louis Stevenson Stories
Treasure Island 1883
Across the Plains 1892
A Child's Garden of Verses 1885
Kidnapped 1886
The Strange Case of Dr Jekyll and Mr Hyde 1886
New Poems
The Wrecker 1892
Essays of Robert Louis Stevenson
Fables
Father Damien an Open Letter to the Reverend Dr. Hyde
Lay Morals and Other Papers
The Merry Men
Records of a Family of Engineers
ST. Ives
Island Nights' Entertainments 1893
Prince Otto a Romance
Weir of Hermiston
Memories and Portraits 1887
Edingburgh Picturesque Notes
Virginibus Puerisque 1881
Vailima Letters
Ballads 1890
Familiar Studies of Men and Books 1882
Tales and Fantasies
Underwoods 1887
In the South Seas
Songs of Travel and Other Verses
Essays in The Art of Writing
An Inland Voyage 1878
The Silverado Squatters 1883
Travels with a Donkey in the Cevennes 1879
Catriona
David Balfour: Second Part
Eight Years of Trouble in Samoa
Prayers Written At Vailima
A Lowden Sabbath Morn
The Letters of Robert Louis Stevenson - Volume 1
The Letters of Robert Louis Stevenson - Volume 2
Essays of Travel
The Dynamiter
Memoir of Fleeming Jenkin
Moral Emblems
New Arabian Nights 1882
The Black Arrow 1888
The Master of Ballantrae 1889
The Pocket R. L. S.
The Sea Fogs
The Wrong Box 1889
The Ebb Tide
Robert Louis Stevenson Books Translated to Finnish